Disappointment For Jamaica In 110m Hurdles At The World Championships
The Track and Field World Championships started on Thursday the 15th of July and will continue through to Sunday July 24th. It is being held in Eugene Oregon at the Hayward Field located at the University of Oregon which marks the very first time that an outdoor World Athletics Championship is being held in the United States of America.
Three of Jamaica's promising prospects for the 110m hurdles for men participated in their respective semifinal qualifying heats at 7:05 PM (Orlando Bennett), 7:13 PM (Rasheed Broadbell), and 7:21 PM (Hansle Parchment).
Bennett is 22 years old and he previously won the men's 110m hurdles gold medal back in 2021 at the North American, Central American, and Caribbean Athletic Association, (NACAC) under 23 Championships. He participated in heat one of the World's Championships in 2022 today, July 17th. Bennett was in lane 2 for the first heat of the men's 110 m hurdles but unfortunately finished 6th place in the race with a time of 13.67 seconds, thus failing to qualify for the finals.
Rasheed Broadbell, 21 years of age, competes on the international stage in Track and Field for Jamaica. His last success story that ended in a victory was in the men's 110m hurdles in the Hungarian Grand Prix (GP) Series that was held in Budapest in 2021. He ran in lane 4 of the second heat and came in 3rd with a time of 13.27 seconds. His time was not fast enough to qualify him for the finals.
Hansle Parchment, a 32 years old Jamaican track and field athlete and seasoned gold medalist also competed in the 110 meters hurdles along with his fellow teammates. The defending Olympic champion participated in heat three of the event and ran in lane 3 to finish first by clocking a time of 13.02 seconds.
Parchment was the only Jamaican hurdler from the trio to move on to the finals for the 110m Men's Hurdles that began at 9:30 PM. However, during warm-ups, he accidentally tugged his hamstring and was unable to perform in the race. The conclusion for the Men's 110m Finals ended with a win for American hurdler, Grant Holloway.
See the image of the injury below;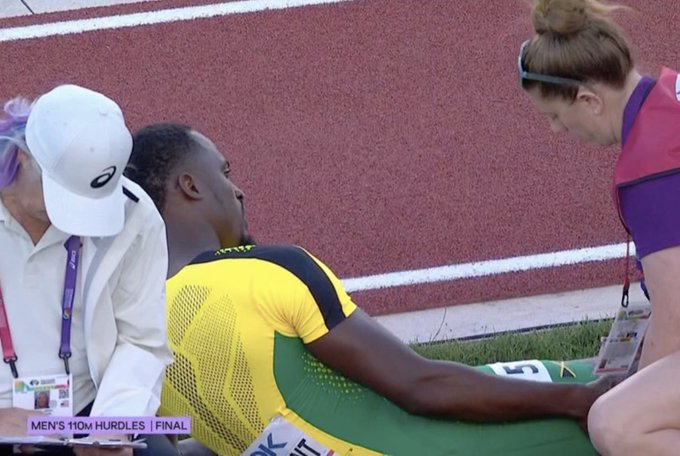 RELATED: Hansle Parchment Wins 110m Hurdle
RELATED: Elaine, Shelly-Ann And Shericka Win Women's 100m Heats – Watch Races
RELATED: Women 100 Meter Hurdles Final Ends In Victory For Britany Anderson – Jamaica Trials